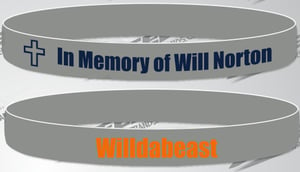 $

1.00
This is a wristband you can wear every day to remind you of Will. It comes in Will's favorite colors: gray, navy blue, and orange. The front side reads "In Memory of Will Norton" in navy blue and the back side reads "Willdabeast" in orange.
Each band is $1. Shipping is a flat $2 for any amount of bands shipped in the United States and is $3 for any amount of bands shipped everywhere outside of the US. I'm sorry we have had to raise the charge of shipping on these bands because the price wasn't covering our costs. Thanks for understanding!
All proceeds go to the Will Norton Memorial Fund to build the Will Norton Miracle Field in Joplin, Missouri.
FindWillNorton.com